How to join
Membership costs:
Single: One member ($25)
Joint: Two members living at the same address ($40)
Additional: Joint membership with a current member at the same address ($15)
Payment methods:
Online application: credit card (Visa or Mastercard only)
By mail: cheque, money order or credit card (Visa or Mastercard only)
At one of the U3A offices: cash, cheque, money order, debit card or credit card (Visa or Mastercard only)
Apply for membership
To become a member of the U3A ACT you can:
Telephone or call in to the office at Hughes or Cook for a membership application form

Newsletter and eBulletin
As a member you will be able to receive the U3A Newsletter, which is published six times each year. If you supply an email address when you join, you may choose to receive the Newsletter via an email which will advise that the Newsletter is ready to download (all Newsletters are published and archived on the U3A web site). Receipt by electronic means (instead of via a paper copy in the mail) helps U3A reduce its administrative costs. Supply of an email address also ensures that you will receive copies of the U3A eBulletin, which is sent on an ad hoc basis to provide up to date information about new courses, changes to existing courses and other matters of interest to members.
When can I join?
The U3A ACT membership year is a calendar year. While you may join at any time during the year, all memberships will expire at the end of the year unless they are renewed. If your membership begins after 1 October onwards you will be eligible for the coming year plus the last two months of the year of joining. Such early enrolment gives you early access to the course prospectus when it is posted out in December. Unless you renew your membership, all communications from U3A will cease after 31 January of the year following your membership year.
Once you are a member
After your payment has been processed your membership card, a Prospectus and a letter of introduction will be mailed to you within a week to ten days.
How to enrol in a course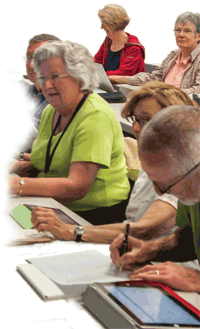 Membership also enables you to enrol in courses and/or take part in other activities, including a range of travel opportunities, outings and walks, forums and film screenings. Enrolment processes vary across courses, as shown in the Prospectus. Most require potential participants to phone or email the course convener on or after the date shown in the Prospectus.
U3A owns no premises of its own and courses are located at various places across the city. The two venues most widely used are the Hughes Community Centre and the Cook Community Hub, but other classes are held in libraries, community centres, clubs and colleges. Some classes are also held in Queanbeyan and Yass. Class members are responsible for meeting the rent of these, usually $1-2 a week for the duration of the class. Computer courses are slightly more expensive. Please read the Prospectus for conditions.
Down the track...
U3A always welcomes proposals for new courses from people who have interests or skills in particular fields and would like to share them with their peers. In fact, we depend on it! Please go to the Course Leaders page for more information including a course proposal form.
In addition to leading a course, there are many other opportunities for you to volunteer in a wide range of administrative areas in U3A. You can send an expression of interest from the How to volunteer page.